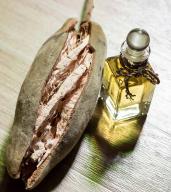 The seeds of a baobab tree has a nourishing oil inside that is used for massages, these massages are known to ease the tension of the shoulder, neck and it will be able to hydrate the skin.
Your bodies fatty acids can be depleted from over exposure to the sun, and UV Rays, this can also be due to poor health, poor immune systems and also sometimes just due to natural aging. This can be a problem for your health because fatty acids are very important for regulating cell function and stopping toxic substances from entering our cells.
Baobab oils can help those individuals who have eczema, psoriasis and non-healing wounds. It is absorbed into the skin very quickly and encourages the regeneration of skin cells. In order to achieve the greatest results from this there are various ways that you can apply the oil.
For normal skin problems it can be applied to the skin directly, once or twice a day, on the mark of the problem.
As a Face moisturizer, massage around eyes, mouths and cheeks.
Otherwise if you want you can baith in your bath with a small amount of baobab oil mixed into the water.
If you are wanting to use it for a body moisturizer then you would lightly wet your hands and then add one or two drops to your hand and rub it in, then you are able to use it as you would a normal body moisturizer.