2018's top haircut styles for men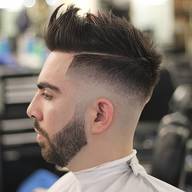 The world of hair beauty is certainly not limited to women. Men are also creative and stylish when it comes to keeping fresh and on trend, and in 2018 no man has an excuse to be out-of-date when it comes to his hair. Here are Beauty4me's top picks for men's hairstyles in 2018:
Messy textures
Messy textures are making a big comeback in the world of men's hair fashion. For a messy textured look, length must be styled upwards with a matte gel in sweeping motions with the fingers. When you're in the salon, your hairdresser can help you achieve this look by giving the top section of your hair an effortlessly choppy cut. This is the perfect look for men who are growing out their hair, as it will keep you looking fashionable during the awkward middle-length stage as your hair gets longer.
Undercuts
Undercuts are still in vogue in 2018, perhaps because they are so stylish, versatile and simple. This style can suit any texture of hair and keeps you looking neat but never boring. You are free to be creative with the length of hair you have at the top of your undercut. Some of the most popular styles for this section of hair are the slick back, the pompadour or the quiff. Bear in mind that this style may need a degree of maintenance to keep it in perfect shape each morning. So if you are unwilling to put aside time for styling your hair, the undercut may not be the cut for you.
Side partings
Side partings embrace a preppy and classic look that keeps you looking boyish and charming. This style of hair in 2018 has shorter layers and lots of texture and can also be paired with an undercut. You can get this look by letting your hair towel dry and then work a glossy pomade or gel into your parting.