Top haircut styles of 2018 for boys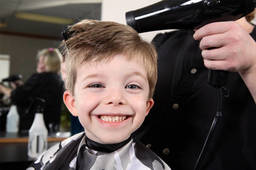 Parents take a lot of pride in the appearance of their children, and its no wonder, as children are a reflection of their parents. New styles emerge every year to bring out the best in any boy. Here are Beauty4me's top picks from 2018's haircuts for kids:
Long side-swept layers for boys
This look is classic and preppy and is perfect for young lads who want to bring some style to their wavy or curly hair. To perfect this look, use some styling wax to keep longer layers off the face. This look is perfectly suited to slightly older kids who don't mind taking some time to style their hair with gel or wax in the morning.
Stylish surgical lines with a buzz cut for boys
For bold boys who want an extra cool look for the holidays, this cut is perfect and extremely versatile. You can choose from a wide range of patterns for your surgical lines and have the freedom to get very creative. Stars, waves, stripes, zig-zags and checks are all up for consideration. This look is particularly suited for boys with dark hair where surgical lines will stand out and make a bigger impact.
The modern Mohawk for boys
This look is a more modern and textured play on the traditional mohawk. Depending on how this cut is styled, it can be quirky and funky or classic and preppy. To style this look after getting a cut, use a light styling mousse to give your hair height and run the top section of your hair through your fingers to get that almost-Mohawk look.
The surfer shag for boys
This is a great look for kids with long, fine textured hair. The surfer shag is achieved with a feathered texture that ends at the nape of the neck. It is best suited to boys who have a relaxed sense of style and who have wavy or straight hair. This style is also better suited to a hair with a fine texture to avoid it becoming puffy in humid weather.