The latest and greatest 2018 trends in hair colour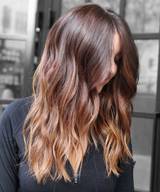 Hair colour is one of the most versatile aspects of the beauty scene, with new shades, blending techniques and wacky colour combinations emerging every year. With so much to choose from, it is important to know what is on trend now. Have a look at this year's top trends in the world of hair colour and make a fashion-forward choice at your next salon appointment:
Creamy blonde colour has become big in 2018 and can be described as a subtle and gentle blend of platinum and warmer blonde tones. This shade is ideal for anyone who wants to make a transition from bleach blonde or platinum blonde to something a bit warmer and more natural.
Another contender for the most popular shade of the year is the blend of blonde and brown, otherwise known as 'bronde', that many celebs have been sporting. This hue is ideal for those who want a low maintenance look, or those with darker blonde or light brown hair who want to give their look a lift and go a bit lighter. Another benefit of this look is that it compliments pale skin tones and is a better option for pale-skinned individuals who won't benefit from draining platinum or dark tones that contrast with their skin too much.
Caramel highlights arrived on the scene in 2018 to save the day for individuals with dark hair in need of a lift for a more memorable and glossy colour. Caramel tones on natural brown hair can instantly warm and enrich your tresses and give them a lovely molasses-hued tint. This look is ideal for those with curled or wavy brown hair as the light caramel tones add extra dimension and brightness to each curl.
Finally, for individuals who want to really make a statement, raven black has emerged as a popular colour. Raven black is perfect for those with blunt cuts who want a simple and sleek colour that emphasises one's facial features and creates a striking contrast.