Hair extensions: Is this trend for you?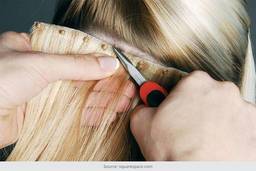 Hair extensions are a trend that have exploded onto the beauty scene with the nearly-too-good-to-be-true guarantee that you can have longer, thicker and more beautiful looking hair in just a day. However, hair extensions may not be the ideal beauty treatment for everyone who wants stronger, healthier and fuller hair. Read on to find out if hair extensions are right for you:
One of the biggest drawbacks of getting hair extensions is their cost factor. Good quality, 100% human hair extensions come at a price and are not permanent, which means you will have to replace them every few months or so, depending on the type of hair extension you choose. In addition to this, choosing cheaper, synthetic hair extensions are not a recommended option because poor quality extensions can actually damage and thin your natural hair and cause additional problems like split ends.
Despite these drawbacks, if you are willing to pay the cost for high-quality hair extensions, they can give your appearance and confidence a major boost.
Hair extensions are a wonderful way to change your look without bleaching your hair or having any extravagant haircuts. With hair extensions, you can get try out a funky asymmetrical cut, try a different hair texture, or put in a few colourful strands. You can also try out new colour styles like ombre or balayage, all without having to make any permanent decisions about your hair. Best of all, if you don't like the new look, you can always change your extensions or have them removed without needing to wait for your hair to grow out again.
In addition to this, if you have short hair and decide you would like to grow your hair out, extensions can be a great way to get your long locks immediately to tide you over until your natural hair grows out.