Three tips for choosing the perfect hairdresser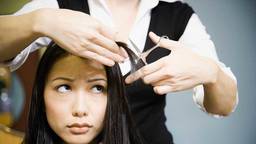 Your hair and the quality of your haircut have a big impact on your appearance and sense of confidence. Choosing the right hairdresser who can help you achieve your ideal look in a professional and creative salon environment is, therefore, vital. Check out our top three tips to help you narrow down the list and select a hairdresser who can bring out the best in you:
One of the foremost factors to consider when choosing a hairdresser is what your hairstyling needs will be balanced against your budget. If you have a larger budget or want to change your style or colour often, you can consider more expensive hairdressers at salons that offer complex treatments. However, if you have a lower budget or are simply looking for a decent trim or colour every few months, consider opting for a lower cost hairdresser who can provide good service at a lower cost.
When choosing a hairdresser, it is important to take into account the salon they work from. Does your potential hairdresser work in a clean and professional environment that encourages high-quality service and creativity? If not, you should consider choosing a different hairdresser. Make sure the salon you choose is also efficiently run, well-stocked, and organised in terms of its schedule. There's nothing worse than arriving on-time for an appointment only to be told you will need to wait for or having a treatment delayed because a product has run out.
Finally, choose a hairdresser who is truly passionate and interested in each haircut, treatment or colour they do and who is able to give you recommendations and new ideas to take your look further. Getting a haircut or new colour should be an exciting process, so make sure you find a hairdresser who is as enthusiastic about your beauty regime as you are.