What to expect at your first sugaring treatment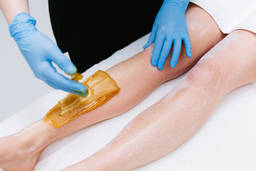 Waxing, lasering, plucking and more. The options when it comes to choosing a hair removal treatment are seemingly endless and each new trend suits some more than others. For many, sugaring is the new hair removal treatment of choice. Read on to get the lowdown on what sugaring entails and how you can expect this treatment to improve your experience of hair removal:
Sugaring is also known as Persian waxing and is a trusted method of hair removal that was first used in 1900 BC, although honey, instead of sugar, was initially used in the process. Sugaring has some similarities to standard waxing. During the process, a sugar substance adheres to and removes unwanted body hair without attaching the skin. The substance is often heated to a lukewarm temperature, which decreases the risk of a burn.
Sugaring is often the preferred method over waxing because it comes with a decreased risk of causing burns or damaging the surface layer of the skin. Despite this, sugaring can still cause a bad reaction to those with ultra-sensitive skin. This risk can be minimized with over-the-counter anti-histamine.
Sugaring paste can be made in the comfort of your home with common household objects like lemon juice, sugar, molasses, cornstarch, and honey. Pre-made sugaring paste is also available with infused essential oils to help nourish the skin and reduce the harshness of the sugaring process. One of the most convenient aspects of sugaring is that, as a water-based process, the substance can be cleaned up quickly and easily when you are done because sugaring paste is water-soluble.
The process of sugaring begins by dusting the skin area with a powder, such as cornstarch. The sugaring paste is then spread evenly over the skin with a spatula in the same direction of the hair growth. A strip of cloth is then placed over the sugaring paste and is quickly and immediately stripped back which removes the hair.