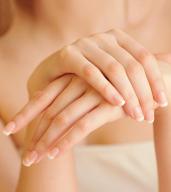 There are many places that you can go to to get your hands treated and to make them feel and look younger. But never forget that there are also always ways to do this at home just in your daily life.
GLOVES
When you are working in the garden or cleaning the dishes, using gloves helps protect our hands. Keeping your hands away from dirt, mud and cleaning agents is one of the most simple and best ways to keep your hands soft. There are many different types of gloves that are accessible for people to use, so don't worry if your allergic or just find latex uncomfortable, there are more options.
Cuticles
Don't pick at your cuticle or bite your nails, this weakens them and causes there to be a need for more care to be done. Using some type of lipice or chapstick will help keep your cuticles moisturized and help treat dry skin around the nail.
Exfoliate as much as possible
This helps remove any dirt and germs from the skin and also clean out any dead skin, this also helps improve circulation in the skin and moisturize it. By just doing some particular research it is very is to create your own hand scrub that will leave your skin feeling moisturied.
Sunscreen
This has many benefits, besides preventing some tyoe of skin cancer and stopping sun burn it also helps provide moisture to the skin when in the hot sun, this includes on your hands. Especially because your hands are always exposed it is important to do this if they are exposed to the sun often throughout the day.